6011 welding rod
The 6011 welding rods are used with the pipe welding industry. They are designed to run on AC and DC welding currents.
These rods are considered as an all purpose rods and are useful for general repair and fabrication. They are useful for welding thin metal sheet. They are as good as a flux core MIG welder. In this article, we have featured the analysis of two popular brands of 6011 welding rods.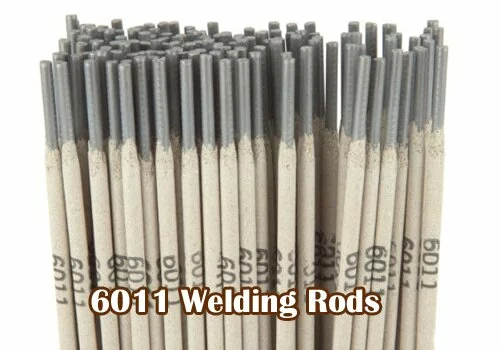 Top 3 picks
Our top 3 picks include the following,
Hobart 770458 6011 Stick
This is an all-purpose welding rod, with an all purpose stick of electrode for use on carbon and galvanized steel. The tensile strength of the rod is about 60,000 psi. It penetrates deeply and is considered suitable for welding through light to medium amounts of dirty, rusty, or painted materials. It runs on either AC or  DCEP(reverse) polarity. It can be used for welding in all positions. The rod is sized by 3/32" in diameter. It weighs about 10.6 pounds. The installation method to be followed is the arc welding method. It costs around $30.Check the exact price.
US Forge Welding Electrode E6011
The product uses premium quality-US forge electrodes to offer easy using, weldability, and forgiving qualities that the occasional welders need the most. It is suitable for welding in all positions. It is suitable for welding in rusty, and scaly steels or in the places where preparing the surfaces is difficult. It is suitable for both production and maintenance work carried out on light and heavy steel. It is best suitable for tack welding and general field welding. The quick freezing performance makes this electrode suitable for overhead work. The product follows the arc installation method and it weighs about 10 pounds. It costs about $25.Check the exact price.
Forney 31105 E6011 Welding Rod
The Forney rod is made of mild steel and is suitable for welding in all positions. It penetrates deeply with the help of strong arc force. It is best suitable for welding in vertical and overhead positions. The slag is deposited lightly and makes cleaning easy. The strong arc force is suitable for rust steel. The rod can be used for welding galvanized tanks, steel casting and pressure pipes. The rod measures up to 3/32" diameter and weighs about 5.2 pounds. It has a tensile strength of 60,000 PSI and amperage of 60-90 amps. It can run on AC, DCEP, and DCEN polarity. It uses arc welding method for installing. The smooth arc wetting and spread with good spatter provides faster deposition and flatter contour fillets that offer faster travel speeds. It requires only a minimum surface preparation. It costs up to $21.Check the exact price.
Before purchasing a rod, it is advisable to go through the various options of products available and shortlist the ones that suit your welding needs. Purchase the one which suits your needs and the budget. Also, make sure you purchase the rod with respect to the workpiece material and thickness.