Underwater welding is a type of welding process in which the welding is done in the water. This welding is performed in the water bodies such as seas, river lakes, and ponds. To perform this welding the welder should combine both the sea diving skills and the welding skills. The underwater welding is usually associated with the hazardous environment and dangers. So to perform the underwater welding efficiently, the welder should be trained to withstand adverse situations. This training is offered by various schools in all parts of the world.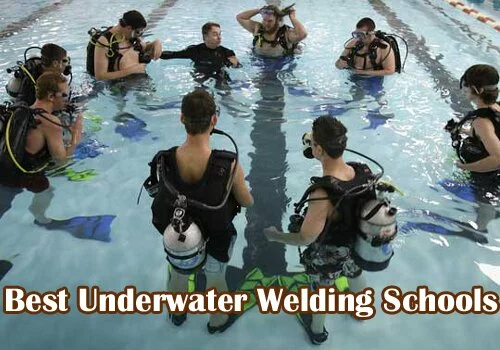 Best Underwater Welding Schools
We have listed the best schools that give best underwater training
Holland College, Georgetown Centre
This college in Holland is one of the best underwater welding schools. This college makes the student practice welding in many adverse conditions. It also trains the welder with a lot of sea diving activities such as diving physics, diver fitness, decompression etc. they also train the welder with the hyperbaric chamber operation.
Commercial Diving Academy,Main Street Jacksonville
This is also the best school for the underwater welding. This school offers various courses such as underwater welding specialist, underwater cutting specialist etc., it also offers various inshore and offshore training. This academy also offers various certified courses on sea diving.
Divers Institute Of Technology,Seattle
This school has specialized certification in underwater welding. This school will train the students for 6 months in welding and then in sea diving. In this institute, all the courses are combined in one package. This feature adds more benefit to the student.
Commercial Diving Schools (International Diving Institute),North Charleston, SC
This is an international diving institute situated in America. This is a traditional school that teaches underwater welding since many years. The coaching given in this institute is very high. A class contains a maximum of 10 students. All the dive instructors are active divers and have certificates. This institute also has certification for air/mixed gas commercial diver. It also has various other certified courses useful for the underwater diver.
CDA Technical Institute,Jacksonville, FL
This is also an underwater welder training institute situated in America. The main mission of this institute is to prepare future underwater welders. CDA institute has a variety of diving equipment and trains the welders with special training. This institute has also built a 20″ deep dive tank that is useful to train the welders. There are various other useful features in this institute.
Divers Academy International
This is also the best diving school situated in California. This institute has various important certified courses. They also have various training programs to train their students efficiently in the better way. This institute has the efficient equipment and has both inland and offshore training.
Hence it is necessary to choose the best underwater welding school. This will make you learn more about welding and about sea diving. The training provided by these institute helps to handle the underwater welder in an adverse situation. So if you are interested in underwater welding,  get trained from the best institute to develop your talent.