Welding certification denotes the certificate issued mentioning that the candidate is having enough skills to meet the standards of welding. It is considered as one of the national programs. Selection is based on the qualification test which is conducted by the welding inspector. It mentions whether the welder is being qualified under the code or not. We have featured this article with the details about welding certifications.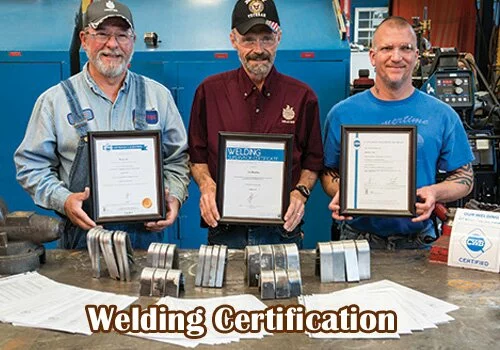 Welding Certification
Certified welder program is a kind of performance-based program which does not require any courses or certificate. The test conducted to the person is based on the procedures of the steel, pipelines used in the petroleum, sheet metal and chemical refinery industries. AWS Accredited Testing Facilities will conduct the exam for certified welder.
Retest and Renewals
Incase  you fail to clear the exam , you have to repeat the testing process from the beginning. The certificate has no expiry date. It is mandatory to mail the certification to the AWS for every six months to renew. It states that you are working as a welder which has to be tested and signed in the required field.
American Welding Society
Welding certification is specially designed to identify the skill of the candidates. The test includes welding process, metal types, thickness, a design of the joints, position, etc.  The test is conducted by an international organization named American Welding Society (AWS).  With the help of welding procedure specification, welding can be performed.
National Training Office
In welding certification program, the candidates operate the database as on-line and  it seems to be the fastest method to transfer the information.  It reduces the waiting period for the candidates.
With the help of the quick-check method, the National Training Fund Office will verify the qualifications and certificates. The members of the organization will train and test the candidates to meet the demands of the welding.
Certified Welder Instructions
You have to read the QC7 standards and its supplements.
To register the test, you need to contact the Accredited Test Facility representatives near you.
While conducting the test, you have to take the QC7 standards along with you.
After passing the test, the Accredited Test Facility will forward your application, qualification and payments to the American welding society.
American Welding Society (AWS) department will check your application and then send a mail with the AWS certified welder wallet card and renewal information.
After two weeks of the skill testing, the AWS will receive your application, results of the exam and fees paid during registration.
After three weeks, you can receive your certification and form from the AWS certification department.
If you are an unemployed youngster and searching for a good career to start with, opt for the welding certificate course and become a certified welder upon completion.If you have cleared the test and a certified welder already,share your experience about the certification procedures for others to know through our page.