A welding helmet is a type of safety product which is used when doing certain types of welding operations, in order to protect the eyes, face, neck from flash burn, UV rays, IR rays, and heat. In this article, we have reviewed about the Hobart impact welding helmet.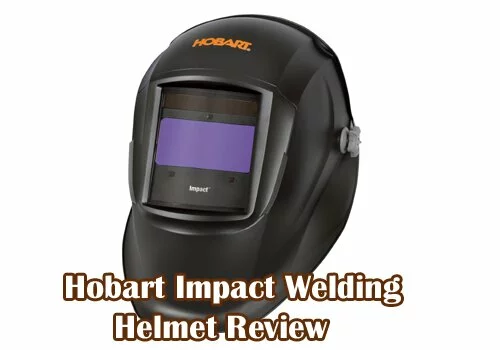 Product description
The Hobart impact series auto-darkening welding helmet is a serious metal fabricator with a variable shade lens which is adjustable from shades 8-13. It is useful for MIG, TIG, and Stick welding. It features both weld and grind modes. It also comes with a three independent arc sensors. It has a large viewing area. It also has a switching speed of 1/25000. It has controls on sensitivity and delay. It has an auto on/off button. It is made of lightweight polyamide shell.It features a low battery indicator. The hedge gear is adjustable providing ultra comfort. The TIG is capable of coming down to 5 amps. It accepts magnifying cheater lenses. It has 5 outside and 2 inside cover lenses.
The good 
Eye protection
Welding requires eye protection as a priority. This helmet helps in meeting this factor. It is made with the latest LCD lens technology, which is designed especially for protecting the eyes. It helps in preventing discomfort while welding.
Visibility
As it has a large viewing area, it helps in giving clear visibility without fogging and thereby keeps your view without obstructing.
Auto-darkening lens
The auto darkening lens comes in many shades. It will stay in light shade 3 at the beginning and turn to a darker shade when you start welding. This factor helps in protecting the eyes.
Weight
This helmet is durable and is light weighted as it is made of polyamide material. The polyamide material helps in keeping the helmet to stay strong.
Comfort
The headgear design which is the  latest model helps to increase the comfort. As it is lighter in weight it can be worn for a longer period of time without any problems such as neck pain, fatigue or any discomfort.
Controls
The helmet features benefits of adjustable sensitivity. It can be done by adjusting the dial until it suits you.
Face shield
The face shield does not show the problem of being falling down. It always stays up to the place, where you want to.This factor also reduces your stress level.
Design
The design of this helmet is stylish as it is sleek and modern.
The bad
Controls
Even though the adjustable sensitivity is an advantage, but as it requires only a dial to turn up the sensitivity, it may cause extreme sensitivity if turned more accidentally.
Sensors
The sensors are designed in a way that they are sensitive to sunlight. Upon sunlight exposure, it becomes very dark, which is  darker than the required amount of an arc. Hence, it is not preferred to us in outdoors.
Ununiform color
The reviews of several customers state that the viewing window does not feature a uniform color. They say that different areas have different darkness levels. They are presented as horizontal bands across the lens.
Dials
The dials are analog which is an outdated model.
Final word
It is said that the helmet is a budget product which is worth the money. The major drawback is the sensitivity issue, apart from that other factors are a plus which is devoid in other helmets of this range.