Welding helmets are considered to be a kind of headgear, which are used to protect the eyes, face, and neck from the harmful ultra violet rays, flash burn, sparks, and infrared light. It is used to reduce the eye damage and prevents the retina burns which leads to loss of vision. The welding helmet helps in improving your comfort and provides security.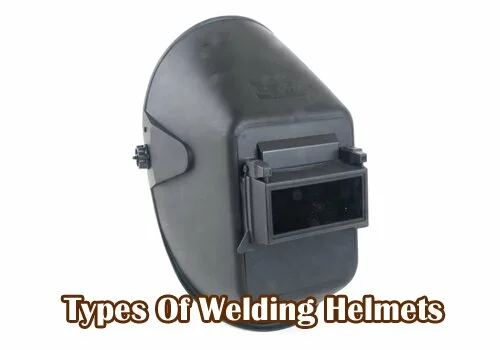 Standard or Passive Welding Helmets
 This helmet is made from the molded plastics. It is specially coated with the ultraviolet or infrared light and thus, it protects you from the external hazardous rays of the sun. The shield is durable and through this, you can view the various angles very clearly. Its extended front will protect your face from slag, fumes, and other physical hazards. It is provided with adjustable sensitivity and so one can use the helmet very easily without any risk.
The drawbacks of this type are flipping the helmet up and down repeatedly can cause neck fatigue or some injuries to the people.We have listed the article with different types of helmets.
Auto Darkening Welding Helmets
It is a lightweight helmet which is specially designed to reduce the neck discomfort. It is specially designed to have light sensors, which are present near to the lens  and help to view the sunglass shade . The sensors are used to improve the coverage. With the help of adjustable delay control, you can judge how long the lens can stay even after welding arc had stopped. This type of welding helmets  provide you a clear vision and is proved to be the best one. It is available in three different types. They are:
Fixed lens shade
Professional and intermediate level
Battery and solar powered
Fixed Lens Shade
Shade #10 is said to be the essential welding to be done with steel. But this shade can be done with different metals for producing different thickness. The amperage can vary from 40 to 200amps which help to produce different degrees of brightness. Adjustable lens shade can be done in various levels like #9 #12 #13 to protect the eyes from harmful radiation.
Professional and Intermediate
The amount of brightness is based on the intensity of the lens. If the amount of intensity is low, the brightness is dim. Otherwise, it will have a good brightness.
Battery and Solar Powered
The battery is made of lithium and it is said to be a rechargeable one. Before  using the helmet,  recharge the helmet with  the help of sunlight. The advantage is that even after if the battery suffers low power, the solar panel supplies the power without any interruption. It is preferred to use the alkaline batteries instead of lithium.
Before purchasing a one, always perform a research about the available resources and go with the one that best suits you.